1
How to use our extension
Speed Read
Welcome to Speed Read
---
Thank you for installing and using our extension
---
Features:
✔️ Efficient Training
Tutorial:
Install the Extension
After installing the extension, click on the icon on the toolbar.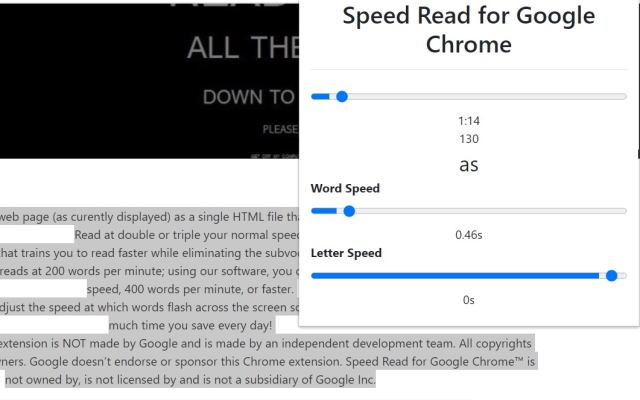 ---
Read at double or triple your normal reading speed. Test your original reading speed. Use our software for 2 weeks and see how much faster you read online.
Train yourself to read faster once you download and install our speed reading software. Increase the rate at which you can absorb knowledge and grow smarter, use this free extension to help boost your reading speed today.
Our software allows you to adjust the speed at which words flash across the screen so that you naturally read faster. Think of how much time you save every day! Save hours each week by using our software extension to read any article you wish. Our software extension allows you to speed read at a pace you set and you can slowly boost your reading speed from 200 to 300 to 400 to 1000 words a minute at the end.